Weekly Programs & Activities
Class for New Muslim
Upcoming program for converted Muslims.
Weekend School
This is a weekend Islamic school for boys and girls offered on Saturdays and Sundays from 10:30 am to 1pm. The children are taught how to read the Quran with tajweed along with basic knowledge of Islam. We have 72 students and 8 teachers.
Quran Memorization School
This is an afterschool Quran memorization program. Monday to Thursday, from 5:00 pm to 7:30 pm. Students are guided and assisted in memorizing the Quran with tajweed taught by Sheikh Imam Mohammad Fakhar Uddin Madani and Sheikh AbdelFatah Abouasy Al-Azhary.
Youth Halaqah Hangout
This is a free halaqah for youth, which will be organized every 2nd & 4th Sunday from Maghrib to Isha.
Dars e Hadiths
Every day after Fajr prayer, A short bayan or hadiths for the musalleen will be delivered by Imam Mohammed Fakhar Uddin Madani.
Weekly Quran Tafseer
This is a tafsir ul Quran program that we have every Thursday, from Maghrib to Isha. Everyone is welcome to attend and learn the message of Allah, taught and organized by Imam Javid Bhaiyat.
Aqidah & Tafseer Class
Aqidah & Tafseer Class for adults will be delivered by Sheikh AbdelFatah Abouasy Al-Azhary after Magrib Prayer. Aqidah Class will be delivered on Monday & Wednesday and Tafseer Class will be delivered on Friday.
Islamic Marriage
Baitul Mukkaram Masjid's Imam is officially licensed to conduct the Islamic Marriage or Nikkah anywhere in the state of Virginia.
General Informal Counseling
Responding and advising on basic or general Islamic questions or queries by community members.
Ramadan Program
We provide iftar every evening during the month of Ramadan. Please contact us if you would like provide help or contribute.
Eid Program
On every Eid, BIC will hold (Three) Eid prayers. The Schedule for Eid prayer will be announced in advanced.
Our Recent News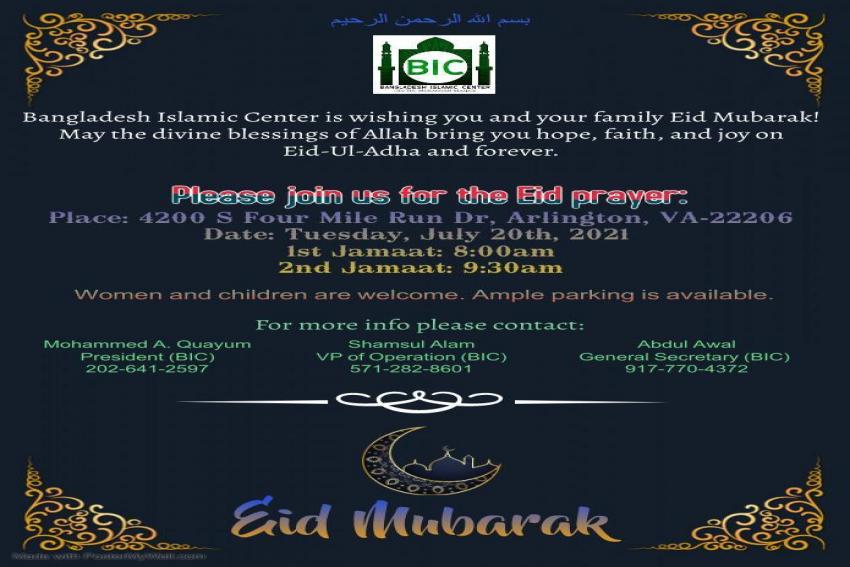 Assalamu Alaikum wrwb
Due to hazardous weather conditions this evening, we